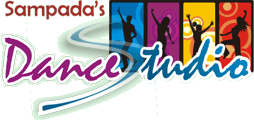 What dance classes does Sampada Dance Studio offer?
We offer regular Bollywood Dance classes for children and ladies. Some time, we also offer Bollywood Salsa workshop for couples. Many of our students also seek our assistance in preparing for performances in office functions, weddings and other family functions.
What is Bollywood Dance?
Bollywood Dance is the synonym for Modern Indian dance. Bollywood dance incorporates multiple styles and variations, and is danced solo or in couples by all age groups. The myriad of hand and body movements accompanied by fancy footwork makes the dance unique and upbeat.
What do I learn at the Bollywood Dance classes?
You do not need to have any dance background to join our classes. These classes teach basic Bollywood Dance footwork, the right turn, cross-body-lead/turn, basic lead and follow techniques, hand changes, and fundamental partner work.
As you progress, one would learn more fancy footwork, intricate hand changes and turn patterns. The focus will be on continuity in leading and following a series of moves. These are 50 minutes to 1 hour classes where some time is devoted to warm-up. Children class has a focus on devoting some time to traditional Indian dance forms such as Kathak and various Indian folk dance forms.
What kind of songs are used in class?
Our dance classes follow the current and popular Bollywood songs that are suitable for children and ladies. We also take up some of the Indian folk songs in our classes. You are most welcome to suggest a song of your choice and if the class has a favour for it, we would learn the dance on this song.
How can you become an excellent Bollywood dancer?
You need to be able to dance in both Modern and Classical styles together. You need Timing and Rhythm, Smiles, Clean classical hand gestures, sharp, controlled and expressive movements with powerful facial expressions to become an outstanding Bollywood dancer.
I am a complete beginner, do you think I can learn Bollywood dance?
Of course any adult and child can learn Bollywood dance. Our advice is just start, Our promise to you is that with persistence you will become a great dancer. Some people progress quicker than others but everyone shows progress with regular practice. Most of our students have joined with no dance background.
Where is Sampada's Dance Studio?
Our principal dance studio is located at the exercise room of Mandarin Gardens condominium at Siglap Road. We also conduct classes at the function halls / studio at other locations. We request you to please click on the Singapore map on Contact Us page in our web site to know the latest listing of all our locations. Dance Studio is a hired venue available for the duration of classes only.
Do you offer free trial class?
Yes, some time, we may offer one free trial class prior to joining our regular class.
What if I miss a Bollywood Dance class? Can I attend a make-up lesson?
Bollywood dance classes follow the choreography sequential pattern. Make up classes are not practical in a choreography class. Participants learn the missed class lesson in the next class. If the participants miss more than 2 classes, we would only charge the partial fee. In case, one need to miss extended classes due to vacation etc, we would not charge for the missed period.
What do I wear to Bollywood Dance class?
Comfortable clothing.
What shoes do I wear?
In general, No footwear is required while learning Bollywood dance. Since we also cover some other dance forms associated with the fusion in Bollywood Dance, these dance forms may need wearing a specific type of shoes. We would inform in advance if such a need arise in some of the dance lessons.
Can I pay for the class via Credit Card ?
We only accept cash / cheque payment. All payment are due in the first class of the month.
How do I Sign Up for the class ?
You need to check the slots availability at a particular location. Once the slot is confirmed for a particular class, please fill the online Registration Form and follow the instructions.